Those cute Halloween pumpkins? Going, going…gone! It's time to put them to work. It seems we skipped right over apple season. I know that we didn't really skip over it. Pies and crisps were made, cider was chugged. But apples did not get their due on Bring It this year. Let's just blame COVID and move on.
Move right along to squash. The phrase "too many squash" is never uttered in my kitchen (by me at least). Butternut and denser, drier kabocha squash fill the void left by watermelon at summer's end, finding their way into my cart every time I go to the grocery store. This year, I hit the jackpot when a friend shared her bounty of homegrown butternut squash and sugar pumpkins (thank you Carole!), so we're having a full-on Squashtacular.
To celebrate, I'm sharing a round up of my favorite winter squash recipes, with a bonus new pumpkin muffin recipe at the end. They are my faves by far after way too much experimenting. For me, pumpkin baked goods can be a tough sell, as they usually involve way too much sugar, oil and spice to overcompensate for being vegetable based. They're like the macho player of baked goods.
BUT, put squash in the savory role, and it becomes something else entirely, something comfortable with itself that doesn't have to try too hard. It adds body and nutrition and enough sweetness to become its own special treat without dressing itself up like dessert.
My go-to squash recipes start with the ever-satisfying Sugar and Spice Squash Soup, featuring the brilliant threesome of red curry paste, coconut milk and candied ginger. For an even simpler, an very similar version try almost instant Halloween Soup.
For appetizers, you can't go wrong when you invite caramelized onions into the mix with some butternut squash on toast. Work through your kale supply with the easily made ahead Roasted Squash, Kale and Cranberry salad.
If you're willing to get a little weird on pizza (or pasta) night, try Butternut Squash Sauce, or an easy, outstanding creamy pumpkin pasta (a little crumbled bacon on top shuts the doubters right up).
And finally, my baked goods comment notwithstanding, I've fallen back in love with Knockout Vegan Pumpkin Pie. It's all about the crust, which I made with hazelnuts instead of pecans this time. Soooo good.
If you still have some pumpkins hanging around, fergawdssakes get them into the oven! …and save a bit to try these healthyish whole grain muffins that are proud to be themselves—just sweet enough, moist but not greasy, and only mess up one bowl in your kitchen. Happy November…the countdown is on!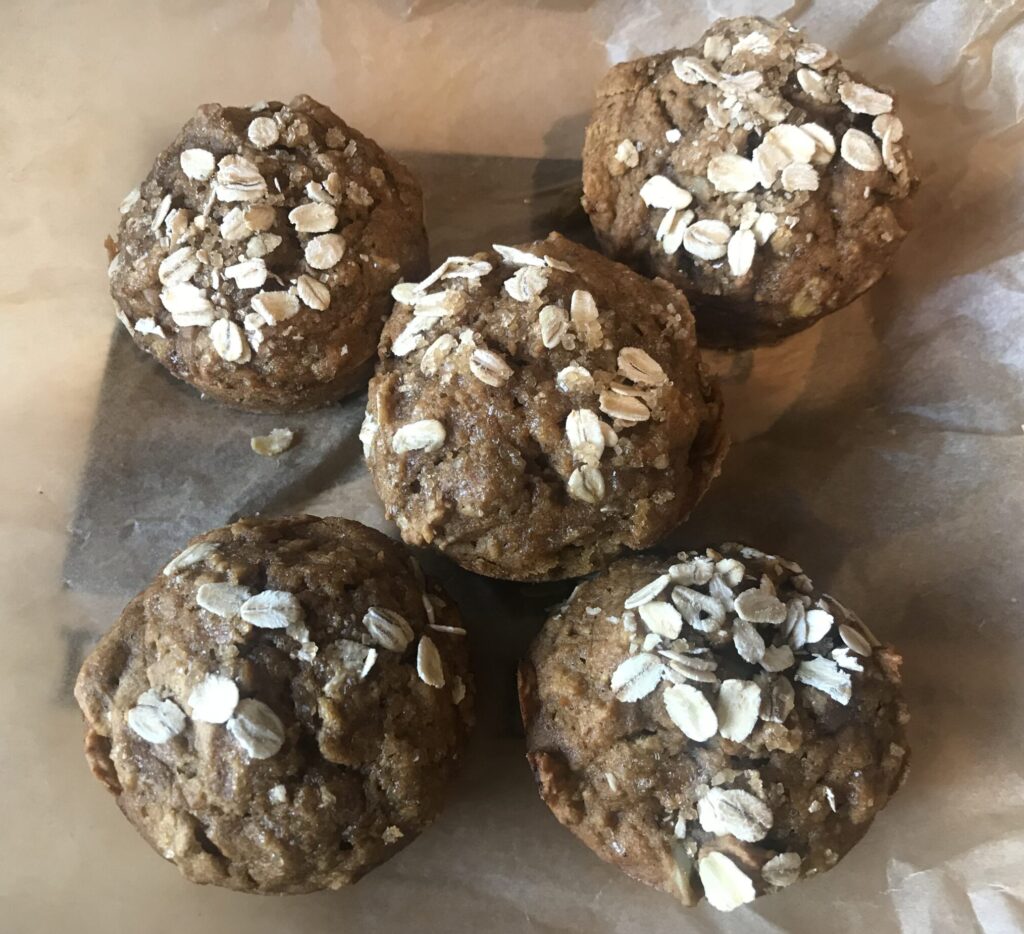 Proud Pumpkin Muffins
Based on these from Cookie and Kate
Makes 12 muffins
Ingredients
⅓ extra-virgin olive oil or melted coconut oil
½ cup maple syrup or honey (as if…maple all the way baby!)
2 eggs, at room temperature (or 6 Tbsp aquafaba)
1 cup pumpkin (or winter squash) purée
¼ cup milk of choice (plant, animal, whatev)
2 teaspoons pumpkin spice blend (or 1 teaspoon ground cinnamon, ½ teaspoon ground ginger, ¼ teaspoon ground nutmeg, and ¼ teaspoon ground allspice or cloves)
1 teaspoon baking soda
1 teaspoon vanilla extract
½ teaspoon salt
1 ¾ cups whole wheat flour (preferably white whole wheat)
⅓ cup old-fashioned oats, plus more for sprinkling on top
Optional: 2 teaspoons turbinado (raw) sugar for a sweet crunch
Method
Preheat oven to 325. Grease or line all 12 cups of your muffin tin.
In a large bowl, beat the oil and maple syrup or honey together with a whisk. Add the eggs or aquafaba, and beat well. Add the pumpkin purée, milk, pumpkin spice blend, baking soda, vanilla extract and salt.
Add the flour and oats to the bowl and mix with a large spoon, just until combined (a few lumps are ok). If you'd like to add any additional mix-ins, like nuts, chocolate or dried fruit, fold them in now. (a heaping half cup chopped walnuts is outstanding)
Divide the batter evenly between the muffin cups. Sprinkle the tops of the muffins with about a tablespoon of oats, followed by a light sprinkle of raw sugar and/or pumpkin spice blend if you'd like. Bake muffins for 22 to 25 minutes, or until a toothpick inserted into a muffin comes out clean.
Place the muffin tin on a cooling rack to cool. These muffins are delicate until they cool down. You might need to run a butter knife along the outer edge of the muffins to loosen them from the pan.
These muffins taste even better after they have rested for a couple of hours! They'll keep at room temperature for up to 2 days, or in the refrigerator for up to 4 days. They keep well in the freezer in a freezer-safe bag for up to 3 months (just defrost individual muffins as needed).