Tick Tick Tick. It's happening, snow or no snow. A certain person in our house wore an elf suit for an entire weekend, the Christmas music on the radio is running 1:1 with Adele, and I'm pretty sure I've had at least some chocolate by 10 am for the past five days. Oh yeah…'tis the season.
This sweet, spicy, ginger squash soup is another fabulous contribution from Steamboat Tania, who holds the bar so much higher than me that I almost just posted this without trying it. Almost. But the whole candied ginger thing was intriguing, and I figured before descending into holiday carb overload I owed it to my people to produce one last healthy, unique, yet broadly appealing dish.
It's a more sophisticated version of Halloween Soup, with creaminess from coconut milk, spice from red curry paste and sweet holiday sparkle from the candied ginger. (You know you were wondering how to use up the tub of candied ginger you got for fruitcake or ginger libations or various gingery creations.)
If I have not sold you on this soup yet, it's also pretty hard to screw up. I didn't have a full jar of red curry paste, used bouillon cubes instead of broth and misread the recipe, using only one butternut squash. It was still incredible, and an acorn squash out there lives for another day. Oh, and Tania's tip on heating the squash in the oven first is sheer brilliance.
I urge you to make this, as a gift to yourself or to share with your holiday squad. Extra points if you enjoy it in your elf suit.
Ingredients:
1 large acorn squash
1 large butternut squash
3 Tbsp olive oil (plus more to rub on squash)
2 T butter
1 large onion diced
3 cloves garlic minced
32 oz chicken stock
1 jar red curry paste
1 can coconut milk (Full fat tastes best. Hide the can if you must)
1/3 cup candied ginger
salt and pepper
Method:
Preheat oven to 350.
Put uncut squash on baking tray while the oven is preheating (do this so the squash cuts easily and you don't lose fingers), 10 minutes or so.
Cut squash in half, discard seeds, rub cut side with olive oil and place cut side down on baking sheet. Cook until soft, half an hour or so depending on size.
While squash is cooking warm 3T olive oil and butter in a large sauce pan. Add onion, cook until translucent. Add garlic and cook until fragrant.
Remove squash from oven and scoop flesh into onion/garlic mixture. Add chicken stock, curry paste, coconut milk and candied ginger. Stir over low-med heat until blended.
Ladle lumpy soup into vitamix/blender (or use an immersion blender). You will need two pots because this was 2 vitamix loads. Blend until smooth. Return to stovetop to warm. Add salt and pepper to taste. Warm and serve. (P.S. It's also really good cold)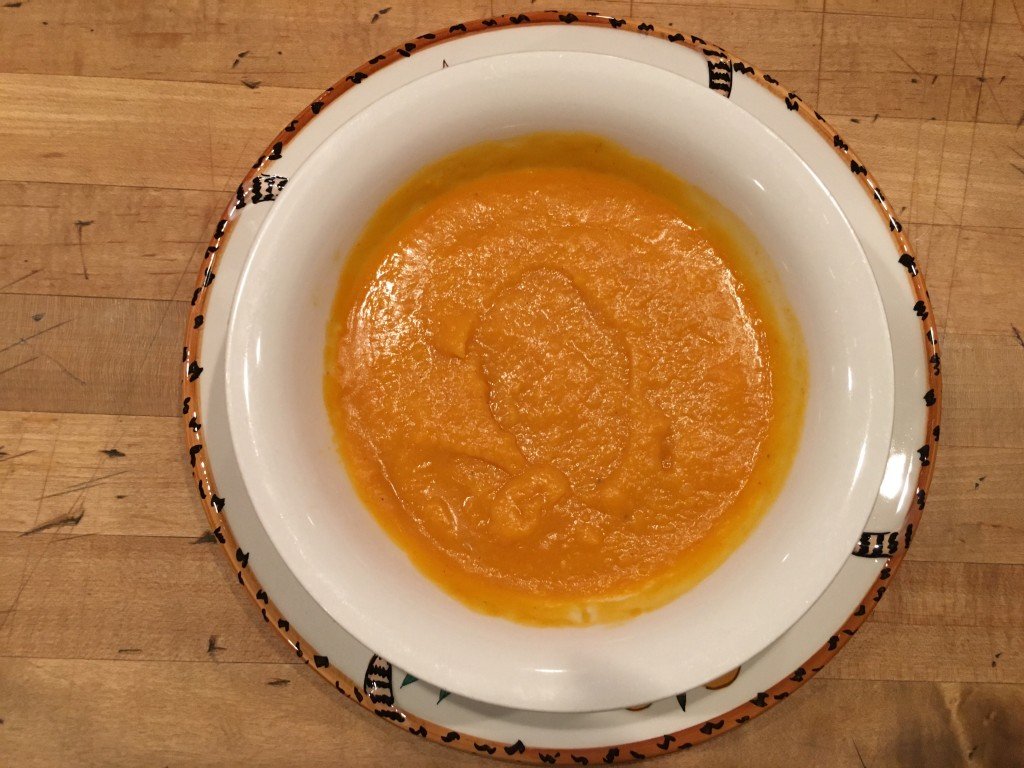 If you enjoyed this article, Get email updates (It's Free)