Well, I blew right by Thanksgiving and then went on tour. Since then, I have not cooked one bit, which, I have to admit, is kind of nice. I wanted to cook, but I've been on the road, and as a fairly messy cook it didn't seem right to invade my hosts' kitchens and disrupt their standards of neatness and order. If only there was some book like, "The Freeloaders Guide to Low-Impact Cooking." Anyone want to get on that? Anyone?
Let's loop back to Thanksgiving for a moment, and specifically to veggie sides, because 'tis the season that we all need some healthy greens to balance the rest of what's coming in. This salad is simple but tasty, easy to prep ahead and holds up (and even improves) over time.
I found it in desperation when I got a last-minute Brussels sprouts request. My go–to roasted Brussels sprouts require a hot oven and last minute prep, which was a deal breaker. Also, to keep the Thanksgiving peace, I wanted something less aggressive than the kale Brussels sprouts salad that was my previous go-to. This seemed like the perfect balance of healthy and mainstream, with a touch of sweetness and crunch to make it holiday material.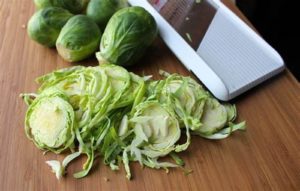 The only labor is shaving the Brussels sprouts, but you shoppers know there are ways to buy yourself out of that (I do like the thin slices you get from using a mandoline, but let's not get picky over the holidays—bagged shortcuts are fine!) The recipe calls for dates, and I suggest the firmer (and cheaper, and easier to find) deglet vs medjool. You could also use dried cranberries or cherries if you prefer, for a more festive look, but the dates are darned good and less bossy in flavor.
OK that's it! I hope you like this salad and it makes you feel better about eating cookies and chocolate for breakfast.
Shaved Brussels Sprouts Salad
From Foodiegoeshealthy
Ingredients:
For the salad
10 ounces of shaved Brussels sprouts (about 4 cups shaved)
½ cup sliced, pitted dates
½ cup chopped, toasted pecans (or sliced almonds)
⅓ cup thickly grated Parmesan cheese (or other hard cheese like Pecorino Romano or Manchego. Can omit for a vegan dish.) Edie note here: I have never tried it with cheese, but I am sure that puts it over the top.
For the dressing
4 tablespoons extra virgin olive oil
1-1/2 tablespoon fresh lemon juice
1-1/2 tablespoon rice wine vinegar
1 tablespoon Dijon mustard
1 tablespoon honey
½ teaspoon kosher or sea salt
Several grinds of freshly cracked black pepper
Method:
To shave the Brussels sprouts: Remove any outer leaves that are coarse or damaged. Cut out the stem and core. Slice the sprouts in the food processor with the slicing blade. Pull the shreds apart into ribbons. Alternatively, slice the Brussels sprouts with a mandoline, or buy pre-sliced.
To make the dressing: The honey needs to be thin and runny, so briefly microwave if necessary. Put all dressing ingredients in a glass jar with a tight-fitting lid. Shake well to combine. Set aside.
Prep the other ingredients: slice dates; chop & toast pecans; grate cheese using large holes on a box grater.
Store all components in the refrigerator for up to 3 days. When ready to serve, shake the dressing in a jar until well-combined. Then toss all the salad components together with the dressing and serve.