No Acepte Imitaciones
We all have those friends who don't F around, who cut to the chase and know just what you need, when you need it. I am blessed to have a fleet of them. A battalion? Whichever is bigger, and armed with more badassery and love. Most of the time they simply make life fun. When you face challenges, they make life So. Much. Better.
Exhibit A, is German Jules, gold-hearted truth-teller and purveyor of the giant triple spicy margarita. I did promise a review of Bring It Fiesta basics, but, because Monday is the new Friday, we're jumping ahead to the crown jewel of our Cinco de Mayo prep. It's the right thing to do, because if you're going to bring your Fiesta A game, you might need to practice.
This recipe (as seen in the proper volume below) comes straight from the source (above), with guidance from the bottle of Ancho Reyes, a little treat that apparently has been around since 1927. Close to 100 years later I am on it! And because I am a rule follower, I will from here forward obey the label: "No Acepte Imitaciones."
The spice come from ancho chiles in the liqueur, ginger in the ginger beer and, if you dare, jalapeños in the infused vodka. You can dial down the heat by using regular tequila, and the strength by using more ginger beer. You know you, so adjust accordingly. And…Olé!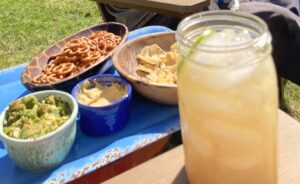 Triple Spicy Margaritas
Ingredients:
1 part jalapeño-infused tequila* (or regular)
1 part Ancho Reyes liqueur (non-negotiable)
1 part, or less, fresh (or as good as you've got) lime juice
Splash, to taste ** agave or maple syrup (Yankees, do the right thing!)
Ginger beer (the good, spicy stuff)
Method:
Combine everything but the ginger beer, and shake with ice. Pour over ice and top with ginger beer. Dial the ginger beer up or down to get the desired effect. Pro Tip: Pour a ginormous one in a huge vessel over tons of ice. Take your time—say an afternoon—pouring more ginger beer over the top to refresh and slow your roll.
*Make your own jalapeño infused tequila by slicing up some jalapenos into a mason jar, filling with tequila and letting it sit for a few days. Strain and enjoy. Here's an actual recipe for it.
** Technically, the recipe on the bottle calls for 1/2 part sweetener, but Jules goes with a splash Do what you will for you or your crowd.