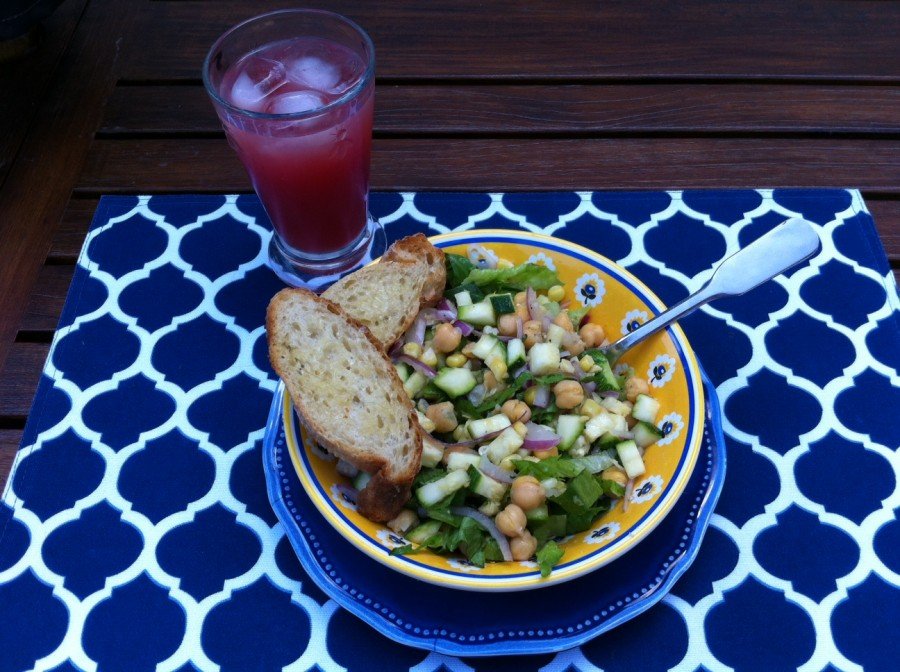 It's the end of summer, you can't go a day without eating corn because it's so darned good, and zucchinis appear in your car when your back is turned. What's a girl to do? Make this salad! I almost didn't make it because it looked so simple. That was a week ago and now I've made it three times. I even put it to the Bring It test, delivering it with a loaf of easiest french bread ever. It meets all the Bring It criteria, especially the part about being EASY.
Recipe from Giada De Laurentis via the Food Network
Ingredients
Vinaigrette:
2 tablespoons fresh lemon juice
1/4 cup extra-virgin olive oil
1/2 teaspoon salt
1/4 teaspoon freshly ground black pepper
Salad:
1 cup garbanzo beans
2 medium zucchini, diced into 1/4-inch pieces
1/2 cup fresh corn kernels (cut off leftover cobs from last night's BBQ)
1/2 small red onion, thinly sliced, rinsed
5 romaine lettuce leaves, cut crosswise into 1/2-inch strips
1 ounce Parmesan, crumbled into 1/4-inch pieces
Method
For the Vinaigrette: In a small bowl, whisk together the lemon juice, olive oil, salt, and pepper until combined.
For the Salad: Place the garbanzo beans, zucchini, corn, red onion, and lettuce in a large salad bowl. Pour the vinaigrette over the salad and toss well. Garnish with the crumbled Parmesan cheese and serve.
Bring It!
Cut the romaine and put it in a sealed container. Combine all other ingredients (except the parmesan), toss with dressing and put in another sealed container. I actually like to let it sit a bit in the fridge to make the onions less aggressive and to let the flavors all schmooze together. Just before serving combine both containers into a serving bowl, toss and add the parm on top. To be totally honest I have yet to add the parm but I'll bet that takes this over the top.