Summer is here my friends. Just in time, the good people of the webhosting universe have fixed my site so subscribers will actually get posts. What a great idea? Thank you Bring It loyals for your patience. And now, on to the weekend!
Before you head out for the Memorial Day shop with the rest of humanity, I picked out some all star classics that will help you slay this weekend. With a little prep you can head into summer looking like the master entertainer you are at heart.
First and foremost…
Bring on The Slaw:
If you have never made Hero Slaw, just trust me on this. It will make you famous. Go ahead and claim it as your own if it helps. Prep it, bag it, put it in the fridge and you can take on any invite that comes your way. Or just enjoy it yourself for a few days. If nothing else, make up the dressing to have on hand and turn kale into something the family might actually eat.
Have Some Balls:
Buffalo chicken meatballs are back on my regular rotation (thank you Neely for reminding me!) until I master the perfect veggie balls. Stay tuned for that. Until then, make up a lot of these (ahead if needed) and know they will disappear fast.
Brush up on Your Bruschetta Fixin's:
You will never be sorry to have a Funitella bruschetta stashed in the fridge. With the miracle that is petite diced canned tomatoes it take all of about 5 minutes. If you want to get more ideas, take a gander at bruschetta deconstructed, and the consider toppings like pickled fig, creamy cheese and crunchy nut crostini, strawberries and goat cheese, and Sicilian caponata.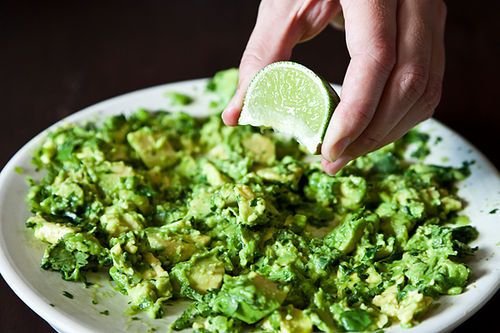 Get Your Guac On:
You've got to have it, and it hardly requires a recipe. BUT if you want to go the extra distance this crazy one with apples and tequila is my new fave. Mango jicama guacamole is another solid contender. Both add crunch and assert that this is not your first guac fiesta.
Think (of drinking) Ahead:
You know you're a pro when…You've got your Frosé and Sandy's daquiris in the freezer, and fixins for some fancy lemonades. You bridge into genius status when you also have watermelon juice at the ready to whip up watermelonade, spicy watermelon margaritas and watermelon sangria.
Watermelon Up:
While we're on the topic of watermelon, cut up some watermelon and prep it for watermelon poke bowls and you are set for fresh weekend lunches for Vegans and non Vegans alike. If you double up on the feta you get for Funitella Bruschetta, and make summer perfection watermelon feta salad, I promise you won't be sorry.
Sweet Endings:
Oh where do we begin on these? Well, summery Lemon Beach Pie, a whole mess of Rubble or Loosey Brucey Rhubarb crisp are a good place to start. As Bruce would say, nobody ever complained about to many good recipe ideas.
New recipes next time, but of now let's go with what we know and get this summer party started.