This post goes out in preparation for the Hahnenkamm Downhill, the most fearsome event on the World Cup skiing tour, which takes place this weekend on "The Streif" in Kitzbuhel, Austria. Specifically, though it goes out in honor of Eric Keck, the American Downhiller who etched his name in Hahnenkamm legend by launching over the "safety fence" in 1991, and emerging bloodied but whole, wielding his broken ski like a battle prize. This remembrance of Keck by Steve Porino comes as close to capturing that particular moment, and the essence of Eric Keck, as the written word can.
Keck left us far too soon, in 2020, but his warrior spirit—a combo of bravery, mischief, humor, and the-sky's-the-limit aspiration—remains with all who knew him and especially on the Streif. The contact high of being around Eric and his exuberance felt like getting a golden ticket, a window into life's possibilities. Fittingly, the charity honoring Eric is called "Keck Golden Ticket" and aims to strengthen kid's lives through the power of action sports.
Eric's birthday was on January 11, and his favorite cake was not a cake at all. It was his mom Bev's lemon bars. The recipe got further customized by Eric's wife Beth, to accommodate Eric's request for "twice the lemon, half the crust."
Beth is herself another magical being. She reminds us that lemons are, "Where summer hides in January." To Bev's original version, she doubles the custard, and reduces the proportions of sugar. Beth rolls with 2 cups total vs 3, which is plenty for my tastes. Even when halved from the original, the crust is still plenty sturdy to hold the filling. She also sometimes subs out almond flour for the regular flour in the crust.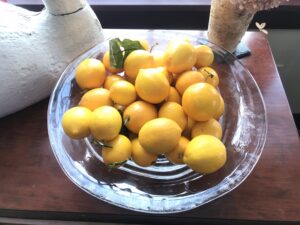 I took Beth's adapted version and cross-referenced it with this recipe for lemon bars from John at Preppy Kitchen. He fills in some details and pro moves that don't make the shorthand of handed-down family recipes. Among them: line the pan with parchment paper; wet the knife to cut the bars; freeze them if, say, you cannot be trusted alone with an entire batch of lemon bars in the dark days of January.
The Preppy version processes the zest into the sugar first, which is brilliant and I support the move, but in fuss-free kitchens…that ain't happenin'! Plus, I kind of love the texture of zest when I run into it.
There are lots of options here, but there are some hard and fast rules:
Use fresh lemon juice…from real lemons you or your minions squeezed. Make us all happy by using Meyer lemons* if possible.
Chill before cutting, or you're in for a messy situation. Better yet, make them the day ahead and you'll be as ready as your lemon bars.
Enjoy every bite! No guilt, no excuses. Like Eric, these are pure goodness —bright, bold, sweet, sassy with just enough New England crust to keep their integrity.
I hope you enjoy this recipe as much as Eric did, and bonus points for enjoying them straight out of the pan with a fork while watching the Hahnenkamm this weekend. If you want to help more kids live large like Eric, please consider donating to Keck Golden Ticket.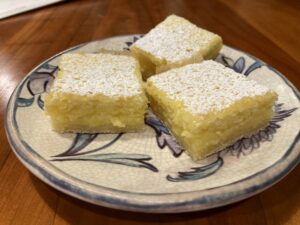 Golden Ticket Lemon Bars
Ingredients
CRUST
1 cup flour
1/4 c confectioner's sugar
1/2 cup butter
FILLING
8 eggs
2 cups granulated sugar
*2/3 cup fresh lemon juice
*Zest of two lemons
½ cup flour
1 tsp baking powder
*Special shout out to Sister A for this particular Meyer lemon haul, and to my other lemon angels/dealers: Sister B, Cousin D and Auntie T (also featured in this splash of sunshine recipe). Have I mentioned using Meyer Lemons??? Ok, moving on…
Instructions
Make the crust:
Preheat oven to 325.
Prepare a 9 x 13 pan by spraying it, greasing it, or IDEALLY lining with parchment paper, pressed and folded nicely into the corners.
With a fork, cut butter into flour and confectioner's sugar until it is the size of small peas. (I have not tried it, but Preppy John melts the butter then adds it). It won't hang together until you dump it all into the pan and press into an even layer. Bake 20 minutes, until just golden (or however you like it).
Make the filling:
Beat eggs and add sugar, lemon juice, zest and flour. Combine well and pour mixture over the warm crust. Bake another 20-25 minutes, until set.
Cool, then chill two hours.
Sprinkle w confectioner's sugar and cut into bars with a sharp knife. Wipe the knife with a damp cloth between cuts to make your edges nice and sharp, like you'd want them on the Streif.
Storing, Keeping, Bringing
Keep these in the fridge until they are gone, or freeze on a baking tray, then wrap tightly and freeze for up to three months (so they say). They travel like champs when the layers are separated by parchment or plastic wrap.