We've been deep into apple and squash season for some time now, with nary a word from Bring It. If you are in search of some seasonal faves, there are plenty in the archives. I've been making my fair share of squash on toast, sugar and spice squash soup, all kinds of riffs on roasted squash and kale salad (often sans kale), and pretty much any way to mainline squash. Same with all things apple, though it is hard to stray far from apple crisp (using this topping) and its more intimidating sister, apple pie. Also psssst: make these apple cheddar scones on the weekend and you're a hero, guaranteed.
With Thanksgiving breathing down our necks, I want to focus on Brussels sprouts, which for many of us place second only to lima beans as the most maligned veggie of our youths. They were recently featured in depth on cookthevineyard. The exposé discussed the merits of respective preparations—halved, quartered and sliced—and how to cook each, along with the one hard and fast rule of Brussels sprouts cookery, which is basically this: Never, ever boil them. This is gospel people.
Cookthevineyard has some excellent suggestions, but my new favorite way to cook them —more method than recipe— comes from Joy the Baker. My visits to her site are more voyeuristic than anything, because I'm just not a baker at heart. Other than Easiest French Bread Ever, which I bake like it is my job, I leave the baking glory to others. But her stovetop "roasting" take on Brussels sprouts is sheer brilliance. I can see it working on a cast iron pan on the grill too, just like these peppers and onions agradolce (fancy term for vinegar and syrup) that became this summer's grilling addiction.
So, this is a quickie, but it is a method that I hope will come in handy this fall, because folks, it's time to brush off your A Game in the kitchen.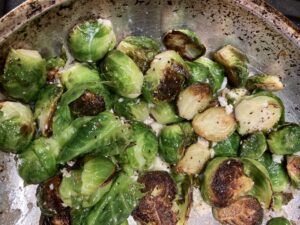 Stove-top "Roasted" Brussels Sprouts
Taken completely, cleverness included, from Joythebaker
Ingredients:
1 pound Brussels sprouts, ends trimmed and sliced in half
1/4 cup olive oil
sea salt and fresh cracked black pepper
juice of half a lemon or splash of red wine vinegar
chopped fresh parsley
grated parmesan cheese
Method:
Trim the ends of the sprouts and cut them in half. The cut side will create more space for that glorious browning and it's always nice to see how Mother Nature made a whole ass cabbage to tiny and cute. Admire all the inner layers because vegetables are actually so cool. All the little outside leaves that fluff off once the end is trimmed? Save those we'll cook those, too.
Grab a skillet – a pretty big one that has a lid that fits cozy. Nonstick isn't important and I haven't tried this recipe in cast iron though I suspect it works just fine. Pour oil into the cold pan. It will feel like a lot of oil and you might be tempted to use less oil but don't. Trust me on this one, ok? Add the halved Brussels sprouts to the pan with oil, cut side down in a single layer. Sprinkle the little leafy bits on top. Put the lid on the pan.
Place the cold pan with oil, Brussels, and the lid over medium-high heat for 5-7 minutes. Don't lift the lid. Don't shake the pan – just let it all go. This is where the magic happens. The Brussels sprouts will create steam as they cook and that lid is helping them steam to tender all while the oil is heating and browning those little babies to golden. After 5-7 minutes, remove the lid, shake the pan around and allow the Brussels to pan fry uncovered for another 5 minutes. Test with a fork for doneness.
Remove the pan from the heat and toss in salt, pepper, lemon juice and parsley. Be generous. Be very cheffy about it. Optional extras: a spoonful of dijon mustard and brown sugar are glorious additions to the acid.
Notes: As I said, this is 100% from Joy, but I can vouch for the bennies of Dijon and maple syrup added at the end. I mix them up with the lemon juice and pour in the whole shebang. And, I've used cotija or grated cheddar cheese instead of parm with no complaints. As ever, love the one you're with!
And, if you are a brussels sprouts fan dive into cookthevineyard's rabbit hole on the topic. I am so trying the sprout potato hash…as soon as I work through some more squash and apples.